Jetzt gutes Essen und Kochbuch gewinnen
Anmelden und Gewinnen
Schön, dass Du Dich für gute, schmackhafte und sauber hergestellte Lebensmittel aus unserer Region interessierst.
Mit dem Newsletter-Abo informieren wir Dich zukünftig über die besten Produzenten und die genussvollen Lebensmittel sowie gutes Essen in unseren Slow Food-Gaststätten.
Unter den neuen Newsletter-Abonnenten verlosen wir:
5 x Slow Food-Dinner für Zwei
5 brandneue Kochbücher
5 Slow Food Travel-Erlebnisse im Wert von je € 50.-
Jetzt anmelden und gewinnen!
Veranstalter des Wettbewerbs:
ARGE Betriebskooperation Slow Food Travel
St. Daniel 17
A - 9635 Dellach

1. Teilnahmeberechtigung
Der Teilnehmer erkennt mit der Teilnahme am Wettbewerb die Teilnahmebedingungen und Teilnahmevoraussetzungen an. Die Teilnahme an dieser Aktion ist kostenlos. Liegen berechtigte Gründe, wie z.B. Manipulationsversuche, vor, kann die ARGE Betriebskooperation Slow Food Travel einzelne Teilnehmer von dem Gewinnspiel ohne Ankündigung und Argumentation ausschließen.

2. Ablauf und Gewinnerermittlung
Gewinnspielzeitraum:
Freitag, 17.12.2021, 10 Uhr
Montag, 30.09.2022,10 Uhr

Die Gewinner werden unter allen Anmeldungen zum Newsletter per Zufall ermittelt.

Die Gewinner werden nach Ablauf der Aktion per Mail kontaktiert. Es obliegt den Gewinnern, sich an unter der angegebenen E-Mail-Adresse info@nlw.at mit ihren Kontaktdaten zu melden. Sollte es vorkommen, dass ein/eine Gewinner/in sich nicht meldet oder erreicht werden kann, wird der Gewinn erneut verlost.

3. Haftung
Mit der Teilnahme an diesem Gewinnspiel erkennen die Teilnehmer den Haftungsausschluss des Veranstalters, des durchführenden Vereins für Schäden jeglicher Art an. Die Teilnehmer werden gegen den Veranstalter, den durchführenden Verein oder deren Vertreter keine Ansprüche wegen Schäden und Verletzungen jeder Art geltend machen, die durch die Teilnahme an dieser Veranstaltung entstehen können.

Ich nehme mit der Gewinnspielteilnahme zur Kenntnis, dass während der gesamten Dauer des Aufenthaltes, der mit diesem Gewinn verknüpft ist, für mich kein Unfallversicherungsschutz und kein Krankenversicherungsschutz vonseiten des Veranstalters besteht und ich verpflichtet bin, dafür selbst Vorsorge zu treffen. Ich nehme mit meiner Teilnahme weiters zur Kenntnis, dass meine persönliche Schadenersatzpflicht nicht durch den Veranstalter versichert ist.

4. Preise
5 x Slow Food-Dinner für Zwei
5 brandneue Kochbücher
5 Slow Food Travel-Erlebnisse im Wert von je € 50.-


5. Allgemeines
Sollten einzelne Bestimmungen dieser Teilnahmebedingungen unwirksam sein oder sollte eine Regelungslücke bestehen, berührt dies die Wirksamkeit der übrigen Bestimmungen nicht. Der Rechtsweg ist ausgeschlossen.

Journey to the roots of good taste:
The Gailtal Valley, Lesachtal Valley and Lake Weissensee are located along the Carnic Alps in Carinthia in the south of Austria.
Plan your journey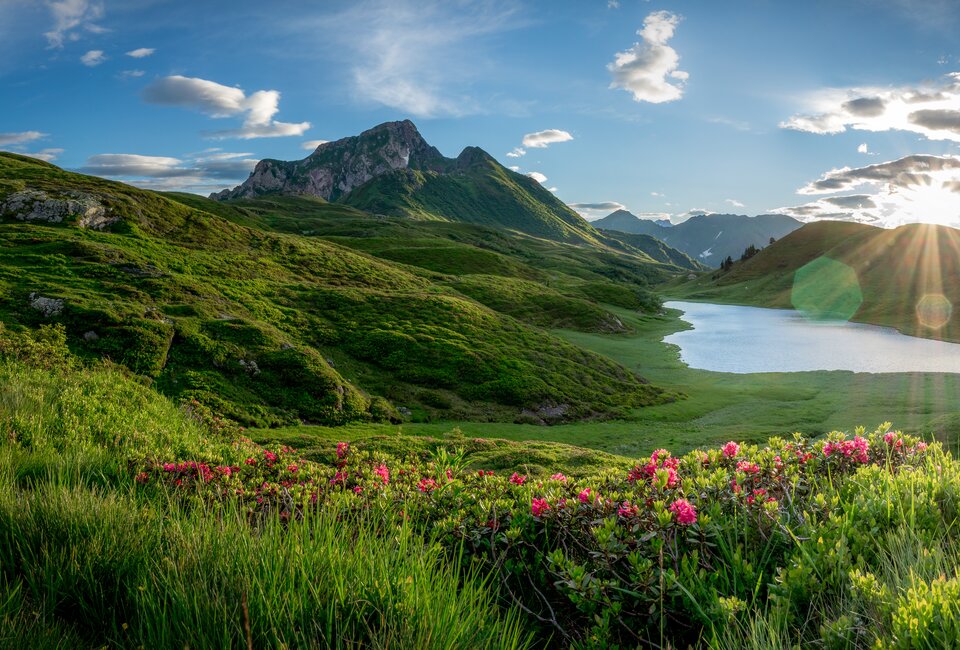 What do you want to discover?